50,92 km cycling route from Anost to La Grande-Verrière
On this stage, mountain bikers follow in the footsteps of 'galvachers' – in the 19th century, these small-scale transport specialists crossed the Morvan Range and plains beyond on ox-drawn carts. In these parts, beautiful paths neatly crisscross the forests, where you'll be struck by the extraordinary shapes of some of the trees. Cycle up the Haut Folin Massif, Burgundy's crowning point, then the track to Glux-en-Glenne plunges you back down into lovely, atmospheric stretches. On the final portion, the descent via La Grande-Verrière is a delight, offering lovely views westwards in clear weather.

The route
This GTMC stage clearly requires more technical expertise than the previous one, principally because of signficant slopes, plus obstacles to look out for, such as tree roots, stones and ruts, slowing down your cycling at times. In autumn, be aware of places where leaves may hide such obstacles. Reaching the Bois du Roy summit, there's a difficult stretch where you may need to push or even carry your bike, then comes a steep descent which is virtually unpassable on your mountain bike, but luckily this situation only lasts a short distance. Along the route, the Maison des Galvachers d'Anost explains how so many people from the Morvan had, in times past, to head off on seasonal migrations to find work.
Accommodation on the stage
They did it!
favorite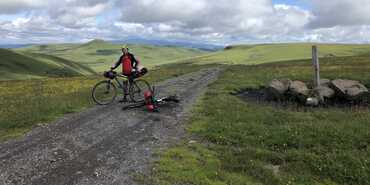 Virginie et William ont parcouru la GTMC en autonomie d'Avallon à Agde au mois de juillet 2021. Le challenge sportif et l'attrait de la nature ont guidé leur choix. Résultat : quinze jours intenses! Voici leurs impressions