Lakes and rivers, Natural parc, Cultural heritage
59,26 km cycling route from La Grande-Verrière to Toulon-sur-Arroux
This stage marks the end of the Grande Traversée du Morvan à VTT. You leave behind the fairly elevated slopes of the Morvan Range to arrive in gentler, undulating countryside, the way running between green hedges. Do take the time to take in the landscapes, which have a hint of Tuscany about them. There are many places en route offering lovely views on this stage of the GTMC à VTT.

The route
At La Tagnière, we leave the Grande Traversée du Morvan à VTT, that track veering northwards to link with Autun via the wonderful boulder-strewn site of Uchon.
Overall, this stage offers very smooth cycling. On the heights of Chaumont Woods, the GTMC route takes you along a highly enjoyable stretch, forcing you to zigzag around oak trees. This stage doesn't present any particular technical difficulties. A stretch of tarmacked track leads you beside the Arroux River as far as Toulon-sur-Arroux.
Accommodation on the stage
They did it!
favorite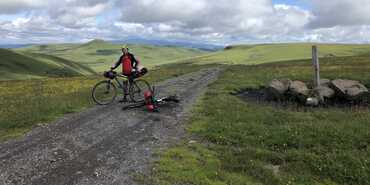 Virginie et William ont parcouru la GTMC en autonomie d'Avallon à Agde au mois de juillet 2021. Le challenge sportif et l'attrait de la nature ont guidé leur choix. Résultat : quinze jours intenses! Voici leurs impressions