Forest, Lakes and rivers, Natural parc
53,39 km cycling route from Montsauche-les-Settons to Anost
The natural scenery changes on this stage of the GTMC à VTT as you pick up altitude. All along the way, enjoy the lovely 'windows' onto the surrounding landscapes of the Morvan Central area, with its green hills. The route continues through pine forests, with Douglas firs and spruce growing alongside the inevitable Christmas trees! In the centre of Ouroux, just 150m from the church, don't miss the viewing point belvedere. From here, admire the panorama across to the Morvan's largest lake, the Lac de Pannecière Chaumard.
The route
The start of this stage doesn't present any particular difficulties. The middle portion has some healthy slopes, interspersed with short descents, not allowing you much breathing space. The end stretch is more challenging, with more significant slopes and sharp descents sometimes requiring technical skill.
Accommodation on the stage
They did it!
favorite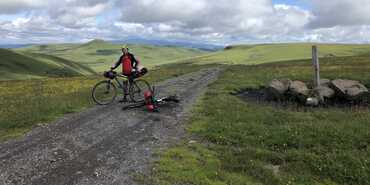 Virginie et William ont parcouru la GTMC en autonomie d'Avallon à Agde au mois de juillet 2021. Le challenge sportif et l'attrait de la nature ont guidé leur choix. Résultat : quinze jours intenses! Voici leurs impressions