Panoramic view, Cultural heritage
Having crossed the village of Marsat, you enter a wonderful stretch of countryside. As you head up into the hills, enjoy the varied views, onto the Limagne Plain, Riom and Clermont-Ferrand, the last with its cathedral built from black volcanic stone and the test circuits for the Michelin tyre company famously based in the city. At Chateaugay, cellars line up, carved into the basalt rock, recalling the long wine-making past of this village. After you've scaled Le Bancillon Pass, dip down into the lively centre of the Auvergne's historic and administrative capital, Clermont-Ferrand.

The route
After Marsat, the route leads up through forests for several kilometres, along very pleasant paths and tracks. After a short descent, you start climbing again. Another short descent and you have to climb once more. A testing, steep further stretch leads to Chateaugay, then some singletracks take you to Malauzat. The long descent to Blanzat, between fields and pastures, allows you to regather your strength before the short, steep ascent of the Col du Bancillon (some parts with over 10 % slopes). Enjoy the final descent into Clermont-Ferrand.
Did you like this?
You may also be interested in this...
They did it!
favorite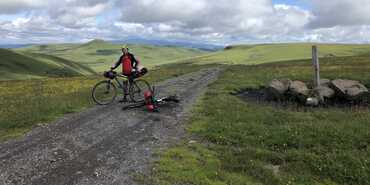 Virginie et William ont parcouru la GTMC en autonomie d'Avallon à Agde au mois de juillet 2021. Le challenge sportif et l'attrait de la nature ont guidé leur choix. Résultat : quinze jours intenses! Voici leurs impressions