Forest, Natural parc, Cultural heritage
51,71 km cycling route from Avallon to Quarré-les-Tombes
The Grande Traversée du Massif Central (GTMC) mountain bike route begins at Avallon, at the northern end of the Parc du Morvan, in central Burgundy. Explore Avallon's historic centre, then descend on your mountain bike, via steep terraced gardens, to follow the Cousin upstream, cycling along its wild, steep-sided valley. Continuing south through hedge-divided fields, you reach the Lac du Crescent, one of the six 'great lakes' of the Morvan Range. After the dam at L'Huis Raquin, enjoy a detour of under 5km (there and back) to admire the imposing Château de Chastellux, dating back to the 11th century. This stage offers a solid introduction to the granite range of the Morvan Hills!

The route
Leaving Avallon, riding high, the GTMC, along the first third of this stage, takes you speeding down some fine singletracks. Then roll merrily along towards Crescent Dam, across a plateau marked by a patchwork of fields and hedges. Next, continue on a particularly pleasant stretch through light woods. The terrain can get slippery when wet, slowing you down. The shifts in altitude mean you have to tackle a few rises out of the saddle, before coming to an undulating part that's fairly easy. This first stage offers you a good warm-up. It would prove that much easier on an electric-assisted mountain bike!
Accommodation on the stage
Did you like this?
You may also be interested in this...
They did it!
favorite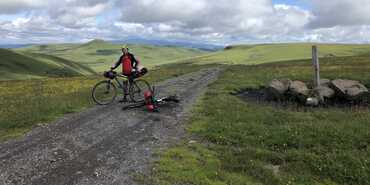 Virginie et William ont parcouru la GTMC en autonomie d'Avallon à Agde au mois de juillet 2021. Le challenge sportif et l'attrait de la nature ont guidé leur choix. Résultat : quinze jours intenses! Voici leurs impressions