Wine, Lakes and rivers, Cultural heritage
64,25 km cycling route from Moulins to Chantelle
This undulating GTMC à VTT stage presents cyclists with a variety of landscapes and atmospheres, plus you're afforded the first staggering views of the Auvergne's volcanic ranges. First, though, you cross Moladier Forest, then join the banks of the Allier.
Next, you ascend to plateaux planted with vineyards in the Saint-Pourçain wine-making area. Verneuil-en-Bourbonnais, a charming, characterful village, offers an ideal place to rest your studded tyres! Cross the steep-sided, refreshing Bouble Gorges to reach Chantelle and its abbey.

The route
Heading out from Moulins, you quickly arrive at the Réserve Naturelle Nationale du Val d'Allier, via comfortable paths. After a portion on tarmac, cross Moladier Forest and the Bocage Bourbonnais on pleasant, easy tracks, to arrive at Châtel-de-Neuvre. Then you alternate between stretches on paths and on quiet country roads, leading you through the St Pourcinois vineyards. After Cesset, cross the stream via a wooden-plank bridge. Before reaching Chantelle, note that the descent through the Bouble Gorges can be challenging in the rain.
Accommodation on the stage
They did it!
favorite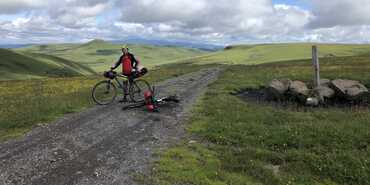 Virginie et William ont parcouru la GTMC en autonomie d'Avallon à Agde au mois de juillet 2021. Le challenge sportif et l'attrait de la nature ont guidé leur choix. Résultat : quinze jours intenses! Voici leurs impressions