Forest, Lakes and rivers, Natural parc
45,76 km cycling route from Quarré-les-Tombes to Saulieu
Once you've taken a good look at the 112 stone sarcophagi scattered around Quarré-les-Tombes Church, the GTMC leads you along a section offering a string of spots with remarkable views. This stage provides the attractions of a hearty mountain-bike outing, plus the odd highlight along the way, such as the Forêt au Duc and the Benedictine Abbey of La Pierre qui Vire. The way is made all the prettier for being dotted with lakes of different sizes; in particular, you'll cycle beside Saint-Agnan Lake, and the lakes by the Maison du Parc. The tracks through light woods offer very good sliding thrills… on a mountain bike!
The route
A splendid stage, a good portion along singletracks, offering riders good times, but requiring a certain level of technical skill and much care. You'll be cycling along a good deal up on your pedals, ceaselessly adjusting your centre of gravity according to the bike's movement. Take care crossing the wooden-plank bridges, which can prove very slippery at times.
Accommodation on the stage
Did you like this?
You may also be interested in this...
They did it!
favorite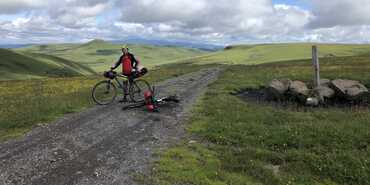 Virginie et William ont parcouru la GTMC en autonomie d'Avallon à Agde au mois de juillet 2021. Le challenge sportif et l'attrait de la nature ont guidé leur choix. Résultat : quinze jours intenses! Voici leurs impressions