Panoramic view, Cultural heritage
47,92 km cycling route from Toulon-sur-Arroux to Bourbon-Lancy
The GTMC by mountain bike here alternates between stretches on paths and on quiet country roads. There are many points from which you can admire the Bocage Bourbonnais, with its hedge-divided fields. Don't miss the short detour by bike to the top of Mont Dardon, at an altitude of 506m – in very clear conditions, you may even spot the summit of the iconic Mont Blanc, a vast distance away! Take a refreshing break at Montperroux Lake, then head on to the Signal du Mont and its tower-cum-belvedere, 10m in height. Complete this stage with a long descent to Bourbon-Lancy, a thermal spa resort with a medieval heart, including the Quartier de l'Horloge, with its memorable belfry.

The route
A hilly stage, with some appreciable slopes, but overall easy to cycle along, without any particular technical difficulties, making for a comfortable ride.
Accommodation on the stage
They did it!
favorite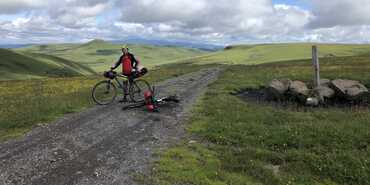 Virginie et William ont parcouru la GTMC en autonomie d'Avallon à Agde au mois de juillet 2021. Le challenge sportif et l'attrait de la nature ont guidé leur choix. Résultat : quinze jours intenses! Voici leurs impressions