Lakes and rivers, Cultural heritage
79,22 km cycling route from Bourbon-Lancy to Moulins
This GTMC by mountain bike stage between the towns of Bourbon-Lancy and Moulins takes you into the French county of Allier, former heartland of the powerful Bourbon family. Having crossed the mighty Loire, enjoy very easy riding through the Sologne Bourbonnaise area.
Here, the landscapes vary between hedge-divided fields, forests and a multitude of small lakes. A final stretch beside the Allier River, a major tributary of the Loire, takes you to the historic city of Moulins, capital of the Bourbonnais and historic headquarters of this northern section of the Auvergne Region.

The route
Leaving Bourbon Lancy, follow the banks of the Loire as far as Les Gailloux Lock at Gannay-sur-Loire, going via a mix of quiet country roads and good tracks. Then, along a 15km stretch, take in the landscapes (and lakescapes!) of the Sologne Bourbonnaise. After a short portion on tarmac, passing in front of the Château des Louteaux, you come to a new stretch of open and forest paths, taking you to the outskirts of Moulins. Crossing these suburbs, you end up on the banks of the Allier River, on enjoyable singletracks.
Accommodation on the stage
They did it!
favorite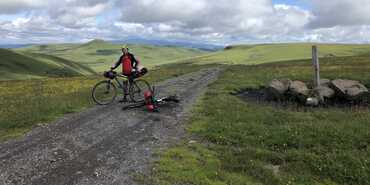 Virginie et William ont parcouru la GTMC en autonomie d'Avallon à Agde au mois de juillet 2021. Le challenge sportif et l'attrait de la nature ont guidé leur choix. Résultat : quinze jours intenses! Voici leurs impressions